Excellent question! In a nutshell, a digital transformation strategy is a plan of action to create new, sustainable, competitive advantage in the digital economy.
In other words a digital transformation strategy will change your business from a traditional business into a digital business. That metamorphosis will be the result of a series of decisions affecting your value proposition, your culture, how you use data, analytics, technology and how you engage with your staff and customers.
What precisely is a 'digital business'?
A digital business is not an online business or a tech company, it's a smart, adaptable, innovative organisation that can compete in the digital economy. Digital businesses reinvent rather than enhance or improve whatever is already in existence. They look at the world through virtual reality goggles, see new possibilities and are geared up to making things happen without causing a world of pain.
When we look at these businesses, they usually have some shiny, fancy techie 'stuff' of some description. We may be tempted to think that therein lies the secret to their success.
Au contraire.
Look beyond the sheen and what do you see?
I bet it's a brilliant solution to a problem you might not even have known existed.
That fancy shiny stuff is a result of good old fashioned groundwork.
They're like Magyver but with way cooler gadgets.
Digital businesses are not more imaginative or creative than anyone else. They are very good at doing their homework and they've got their strategy right.  They have taken the time to really understand their customers and worked hard to develop solutions to their customers' problems.
Good digital transformation strategy is not just vision
Yes we do need to create a vision of the future. Strategy sets direction, an idea of where we're going, but vision alone does not drive coherent action and strategy is all about driving coherent, effective action.
Not all strategies are good strategies
An excellent quality test for your digital transformation strategy is whether or not your organisation is committing random acts of digital.
Random acts of digital are a plague of our times. If they're happening in your organisation you are not alone. Somewhere along the line you have a strategy problem (or there simply isn't one).
WHAT MAKES A GOOD DIGITAL TRANSFORMATION STRATEGY?
If we consult the king of strategy, Richard Rumelt, he'll tell us that a good strategy has 3 components:
Diagnosis

Guiding Policy

Coherent Plan of Action.
How many strategies have you come across that actually include all 3 things?
Well quite…
What happens if you skip diagnosis?
Random acts of digital, unrealistic desired outcomes, mayhem, uncertainty.
People stabbing in the dark hoping to find something that will yield positive results. You might see isolated parts of the business becoming more 'digital'. Technology is implemented but people don't use it, scattered projects are underway but they don't link to anything tangible, people don't really understand what they're doing or how to evaluate efforts.
Best case scenario is improved operational efficiency. Worst case scenario is frustration, complication, and wasted resource.
Either way there is no transformation, just digitised versions of the same processes, products and services.
The aim of the diagnosis phase is to understand the existing situation and the challenges that must be overcome in order to reach a desirable new situation -- it gives tremendous clarity and helps keep things on track.
What happens if there is no guiding policy?
In most cases, the business will not meet its strategic objectives. If they are, it's due to sheer good luck rather than good guidance.  Without guiding policy a strategy is little more than a wishlist.
How do you identify a strategy without a guiding policy?
By asking one question -- how do you want me to do that exactly?
If you can hear tumbleweed blowing through the corridors you know you have hit the spot.
A note of caution: beware the misguiding policies that might have you wandering up the garden path. How can you tell a guiding policy from a misguiding policy? Well if competitive advantage comes from differentiation a good guiding policy will contain some kind of 'if this, then that' statement. If your guiding policy can be applied to any organisation at any time and under any circumstances it probably isn't all that helpful.
What happens if you don't have a coherent plan of action?
Not a lot.
Sometimes people go straight back to work and carry on with business as usual. Sometimes people work around the clock and get nowhere. (The phrase headless chickens springs to mind.)
Ultimately it leads to wasted resources -- waste of time, effort and investment.
Sadly, this eventually ends in disenfranchised, disheartened, burnout staff.
Nobody wants that.
The good news:
Now that we know what the problem is, we do can something about it.
Let's go back to the vital ingredients in our strategy recipe.
Diagnosis
We are trying to understand the challenges we face. It's worth noting that the biggest challenges present the greatest opportunities for the most significant payoffs.
In the diagnosis phase, there are a few different things we need to look at.
We need to understand our marketplace.
Who are our competitors?

What are their value propositions?

What is their digital punching weight? We don't want to get into a fight with someone twice our size.
What's going on with our customers?
How many customers are in our marketplace?

What are they looking for? What are they trying to do?

Why would they choose us over our competitors?
We need to ask ourselves a few probing questions too.
What is our strategic ambition?

What are our resources?

What assets can we leverage?

Where are our opportunities?

What stands in our way?

What's changing in our world?
We need to ask ourselves why and how at least 5 times to get to the root of the problem and articulate it. Then we know where we stand.
Guiding Policy
Begone boring policy documents, in the digital world we have something called a playbook. Hoorah I hear you say. That sounds like fun. Do you know what? It is. It's liberating to understand the tactics that work for your play and you can happily ditch the rest and focus on what matters.
Here's the deal. You may have heard that the online world is the land of the free and the home of the brave digital marketer. Search positions are yours for the taking. With the magic of keywords, PPC, blogging, social media and SEO customers will appear on your website and buy stuff, hand over their contact details for you to keep in touch and talk about how wonderful you are with their imaginary Facebook/Twitter friends.
Too good to be true?
Of course it is. Utter hogwash.
THE DIGITAL MARKETPLACE
If you look through the lens of digital at any given marketplace it looks something like this: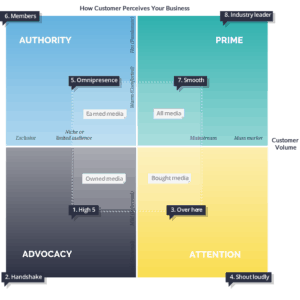 No, you don't need virtual reality goggles, just a little bit of explanation.
Each square in the quadrant represents a position in the digital marketplace occupied by the players.
Let's draw a big horizontal line through the middle.
Above that line you have Authority and Prime positions. These are the most covetable positions in the quadrant. This is where customers actually come looking for you (the holy grail!) and they might even share your content without being bribed to do so with competitions and giveaways.
Prime players have made it to the top
They're the heavyweights that get the lion's share of the pie. Authority players are catering to smaller niche markets but doing something new and inventive that has industry pundits talking about them. These guys are doing some moving and shaking -- maybe even some disrupting.
Below that horizontal line is a different story.
Advocacy and Attention businesses are fighting hard for customers
Below the line is the land of the undifferentiated value proposition where battles are lost and won on all the best practice kind of stuff -- price, customer service, delivery times, customer relationships and so on. It's no picnic.
This is where the playbook comes in. There are set moves for getting around this quadrant. The ground rules are that you can only be in one position at any given time, and you can move up and down or left and right but not diagonally.
Stick your 3-d glasses on and we'll look at that quadrant again. This time with a view to understanding where you are now and how you move around it.
The default position for nearly all businesses is Advocacy
If you're in Authority or Prime you have this whole digital transformation thing licked. Your priority is defence so you can maintain your position against those nippy little blighters coming after you.
If you're in Advocacy you probably want to move. I don't blame you. Growth is slow and steady (if it's happening at all), new competitive entrants are nibbling away at your profits and pilfering some of your customers. Your attempts at online community building and getting customers to work for you is probably proving futile and chances are this whole transformation idea probably seems very vague and intangible. You got to where you are today through word of mouth, building relationships and finding distribution partners and these 'old school' methods are probably also your best bet today. It's all about who you know in Advocacy and it takes time to build your base.
Prime sounds way better -- how do you get over there?
OK, so a diagonal move is out of the question so you've either got to go through Attention or Authority.
The simplest way is to to go across into Attention and then try heading north
It's like a fairground in in Attention, with people shouting, lights flashing and plenty of noise vying for customers' attention. Attention businesses are buying eyes, whether through online advertising, tradeshows, events, offline advertising or whatever means it takes. In order to grow through Attention you're going to need a lot of cash, an easily understood value proposition that appeals to the mass market and the cash to outspend the Prime player(s) defending their position above you. They're Prime don't forget -- they have a lot of dough. And if you stop spending, growth drops off a cliff.
It doesn't work for everybody, but it's a great option if you have the right credentials and the cash.
If Attention is off the cards your other option is to go through Authority
The defining characteristic of an Authority business is that industry experts are talking about them so they get a lot of business from referrals.
What gets industry experts talking?
Witty banter? Sadly not. Customers might like your humorous blog or share your hilarious videos but journalists aren't going to write about it.
Awards and trophies? Sometimes they warrant a mention but it doesn't tend to lead to any kind of transformative shift in your business. Sadly these press mentions are usually more of a damp squib.
The secret?
Innovation. Innovation is the rocket fuel that propels businesses into Authority, but it's a long hard road. One innovation is never going to be enough and it's going to take time, management talent and a bucket load of hard work. If you're very successful and stealing enough custom from a Prime player to seriously get on their nerves, they might buy your business or if you can expand into the mainstream market you may even become a Prime player yourself.
Want to go for it?
Before you set off on that yellow brick road, you are going to have to narrow your value proposition, identify a niche of customers who aren't being served by existing providers and create a product or service that matches the task and intent of those customers.
Easy peasy lemon squeezey.
OK, not easy peasy. It's hard. You're going to need to experiment and research and, yes, innovate. You've got to understand your customers' problems and tasks and then come up with a way to help. It's going to take experimentation and dedication, a shift in mindset, in culture and in leadership direction but the payoff is substantial.
For a shining example of a successful Authority to Prime manoeuvre look no further than Apple.
A Coherent Plan of Action
Whatever your play (and these are just two examples, there are more), you then need to execute.
I don't mean chop it's head off, make it happen.
You've got to break your strategy down into a series of mile markers, projects and tasks and start assigning them to members of the team. You'll soon be getting stuff done and charting progress.
What's next?
Keep on truckin'.  A single innovation will only power your journey north a short way, so repetition is key. That means continuous cycles of innovation for which you'll need strong leadership, processes and procedures so that input is collected from the right people, ideas are collected, ranked and tested in a sensible order, experiments are conducted properly, results validated and implementation follows on from successes.
To get input from both customers and staff you will need to engage with them.  Don't roll your eyes like that, I know 'engagement' is yet another one of those irritating buzzwords that usually means nothing and gets you nowhere. Engagement is a result of acknowledging and meeting people's wants and needs -- not from broadcasting your message ad nauseum.
Create a win-win. You need your staff to accomplish the not insignificant task of changing your business into a digital business. They need you to create a culture in which they can flourish. More of that over here.
Before you can engage your people you need the leadership on board
They have to think like digital innovators, be able to develop digital transformation strategies, create the necessary conditions for a culture shift, commit to change, make sure the organisation doesn't get bogged down in business as usual, and give strong direction on innovation: the problems to be solved, challenges to be overcome and use of resources.
Once you get going you're going to need to get the right technology to make sure it all works
Nothing frustrates people more than technology that is supposed to make their lives easier but is actually more labour intensive than the manual process or tech that breaks all the time. Don't let it happen.
You'll also have to get your data and analytics in place
These are your organisation's GPS. You need to know where you are, where you're going, what your customers are doing, what your competitors are up to and key metrics in place for your finances. Data informs decision making, validates decisions and removes endless subjectivity and arguments discussions. Without data you're flying blind and in the digital world you might run into a drone or a driverless car. Proceed with caution.
In large enterprises, you can tackle transformation one department at a time or create a new department and start integrating changes into the wider organisation once you get into your stride. Enterprise-scale transformation might seem like a gargantuan task but tackle it like you might go about eating an elephant. One bite at a time.
Making the shift from a traditional business to a digital business starts with a change in mindset
Right thought precedes right action. You could start with a digital transformation leadership course.
The strategy part might not have all the technical wizardry or razzmatazz that wins prizes but without it, no amount of chatworthy stuff that people love ever comes into creation.
If you're looking for a reliable method for creating your strategy may we humbly offer the 7 Principles of Digital Business Strategy -- a data-driven digital transformation framework that encompasses all the critical strategy components, uses data and results in a plan of action. Thankfully you don't need the brain of a chess master to use it.
You could buy the book or take a course.
May the force be with you.